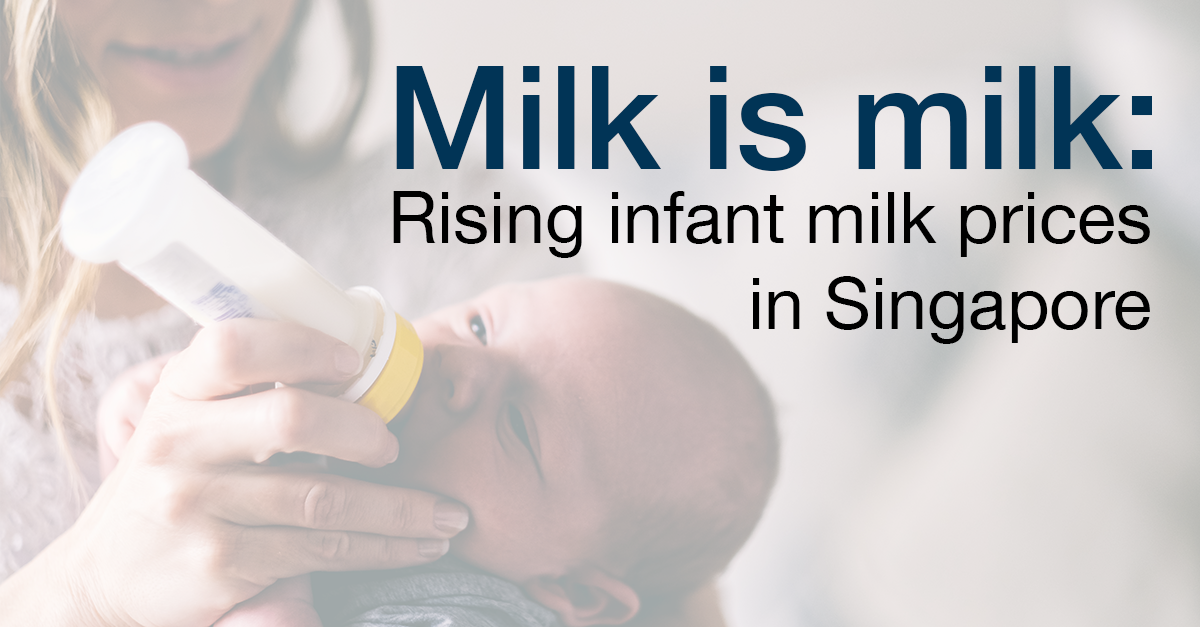 Josephine Teo, Minister in Prime Minister's Office, made headlines earlier this month with her comments on infant milk prices.
"Milk is milk, however fancy the marketing," she wrote in a Facebook post, raising questions from many Singaporeans. Several responses were made online about how the crux of the matter is the high infant milk prices, especially compared to other countries, not whether to buy the cheapest. Others pointed out the differences in prices now and then when she was raising her children.
Teo's comments followed the Competition Commission of Singapore's (CCS) release of a report on the prices of milk powder.
According to the report, infant milk prices have gone up by 120% over the last decade. In addition, compared around the globe, Singapore's milk powder prices are the third most expensive, and fourth after adjusting for purchasing power parity.
CCS attributes this to Singaporean parents' willingness to pay a premium for speciality milk over standard ones. The findings found that 95% of Singaporeans who bought milk chose premium brands.
Besides that, marketing, as well as research and development, are cited as some of the drivers for increased costs by manufacturers.
Infant milk prices as quality indicator
The inquiry found that parents may be relying on price as a quality indicator. Research has shown that consumers often infer quality from product prices. Use of surrogate indicators of quality like price by companies depends on a few factors. These include product information availability as well as the promotional efforts of the brands.
"Some parents may find it difficult to understand the nutritional content of formula milk, a child's nutrient requirements and the significance of the additional "premium" ingredient," the report stated.
Recently, a supermarket and an infant milk manufacturer attempted a collaboration, the watchdog mentioned. Although the venture offered a "value-for-money" alternative, their product failed to gain traction.
"Despite various marketing activities by the manufacturer, sales were weak and the product was discontinued by the manufacturer as it was not commercially viable and the manufacturer could not meet the minimum order quantity from its factories."
In addition to pricing, branding could another surrogate indicator of quality influencing purchases. People are found to be willing to pay high prices for a trusted brand. Brands, in turn, will spend more on branding activities, transferring costs to buyers.
Such consumer behaviour encourages the increase in product prices, especially in situations of low competition.
Government responses
A triumvirate of government agencies — MOH, AVA, and HPB — released a statement detailing their plans and will be implementing them in time to come.
The report says that three public hospitals have adopted the Baby-Friendly Hospital Initiative — KK Women's and Children's Hospital, Singapore General Hospital, and National University Hospital. The rest of the hospitals in Singapore have yet to follow suit.
However, the Ministry of Health will be strongly encouraging all hospitals to be certified and provide stronger support for breastfeeding.
The World Health Organization and UNICEF launched the BFHI in 1991. The scheme promotes breastfeeding and prevents hospitals from profiting in sponsorship and payments from milk manufacturers.
Previously, MOH created the Sale of Infant Foods Ethics Committee of Singapore to regulate the infant food industry and promote breastfeeding. In its future plans, SIFECS will extend coverage of its Code of Ethics. The extension will include all formula milk up to 12 months of age. The code currently restricts advertising, marketing and promotion of formula milk for infants below 6 months.
The Agri-Food & Veterinary Authority of Singapore will also tighten its regulations on labelling and advertising for formula milk to prohibit the use of nutrition/health claims and idealised images. This will be accompanied by the streamlining of its import requirements and procedures. The measure aims to facilitate entry of more suppliers and brands of formula milk.
For the Health Promotion Board, the board will step up public education. It plans to embark on a multi-year campaign on the nutritional needs of children.
Singaporeans can look forward to these slew of changes in the coming months.